For an artist, a fresh new canvas is often the start of a beautiful new work. While I do not consider myself an artist, as I'm sure my grade school teachers would have attested to, I see a new garden as a canvas of sorts. While certain elements are already in place, the potential to develop it, change it and make it ones own could bring out the artist in anyone - perhaps, even me!
Inspiration abounds - books, local/faraway surrounds, other blogs - cruising around the other day, I found so many good ideas.
Garden flowers from boxsprings
- so totally nifty!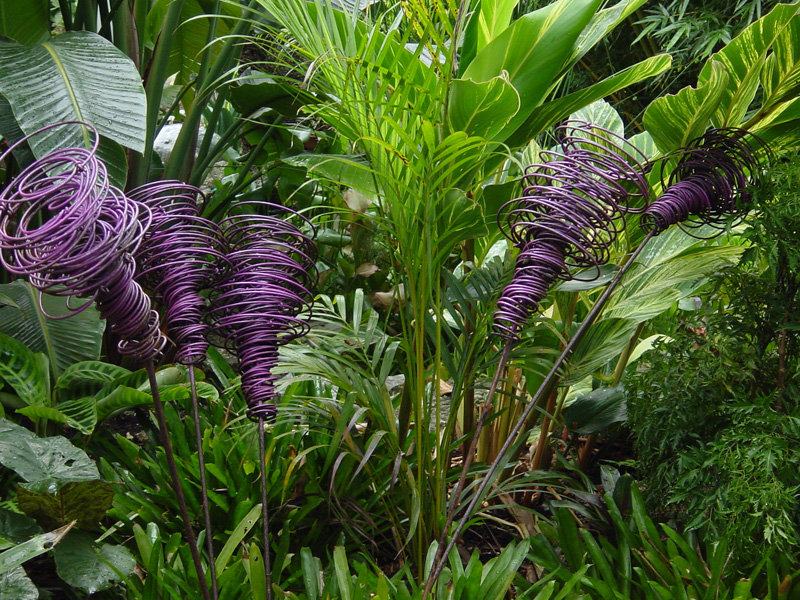 looks like my new fav building component - pallets, perhaps?
Garden structures
have always intrigued me - love ideas that are practical, functional and unique - all-in-one, covering all the bases.
Thinking, always, of new approaches in my "spaces" - my thoughts go to "The Bog Cabin". The landscape surrounding our new cabin is, for me, a true gift from nature. There is so much to discover, as it is so vastly different from our garden at home, both in size and composition. And there are built in elements from Mother Nature that I truly love - rock formations as I've never seen, textures and colors so different from the seashore landscape at home, and unusual (for me, anyway) ferns and ground covers, and lots of bird species whose voices are unfamiliar to me. I feel like a kid in a new playground!
So, play I will !
There are challenges - the black flies have had their way with me, feasting on my legs, arms and ears as though I were a new food source. I learned very quickly how to dress to play in the garden and when the best times are to be outside. The locals tell us you get used to them (never, I say!) and they do pass (thank goodness!).
As every playground has its toys, so must I....
freshly planted peas next to the herb garden (which is oops! behind the rock...)


redwood stained planter box on old wheelbarrow base
one of Mother Nature's gifts - so sweet!
On the back of the shed, there is a lean-to structure - previous function unknown, very rotted top now removed. We took the door which had been on the porch (now replaced) and fit it to the top so I can lift it. Now I have a home to store my potting mix and compost can. Thinking I can also down the line use it as a sort of cold frame -
love
that idea.
branch holds the door up, window added to fill in the space - not bad, huh?
did a little antiquing - see what I found?


The hummingbirds have found the feeder I put in the tree, and the phoebes don't seem to mind my invading their space - ah! life is good in my new artful garden .... now, if I could just control the bugs.......
Care to share any of your garden pics?